What's
actually
going on?
Here's an overly detailed list of what I'm using and how I'm using it. But first, some photos.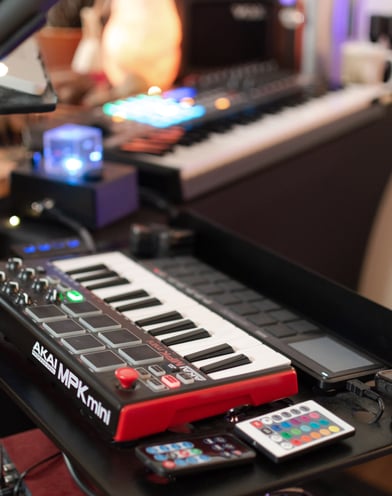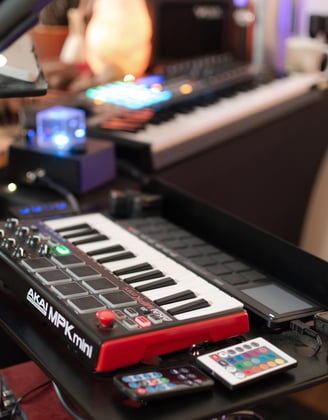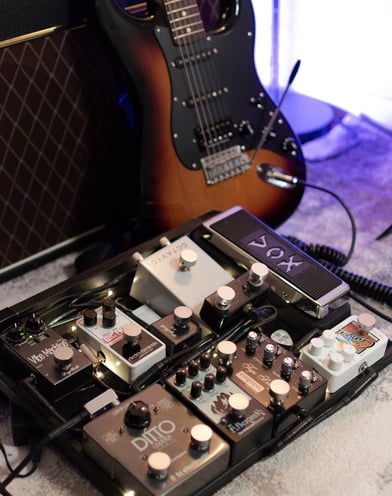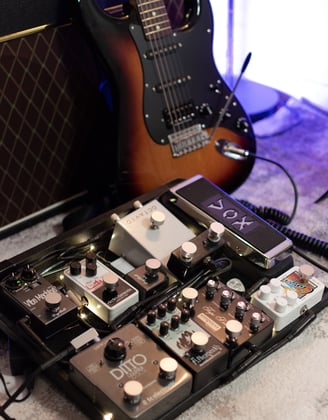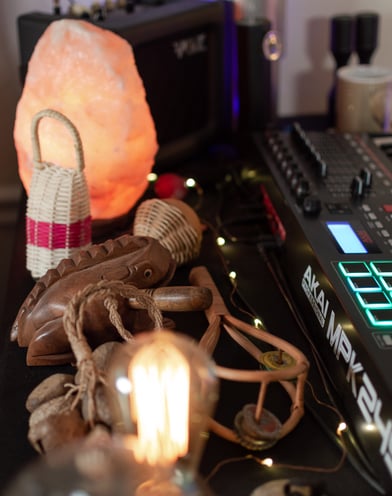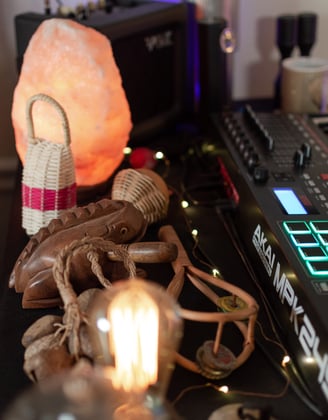 I'm not always sure where I'll be standing or what I'll be doing at any point during my performances so it's important for me to be able to control my loops and certain effects from as many different places as possible.
I use this primarily for keys and synth sounds. I use the faders to control the volumes for all my instruments and their loopers. I have master effects on the knobs. I mostly use the pads to control the synth and master loopers, but also have a rack of glitch effects and a bank of miscellaneous sounds.
This is mainly just for my drums. Using Battery from Native Instruments, I have put together two 16-piece drum kits. Scene 1 has an acoustic kit, Scene 2 has an electric kit. Scene 3 gives me looper controls for my guitar as well as the master channel. Scene 4 has the looper controls for all the keys.
In my full setup, I use an mk2 as my bass synth and control the looper with the pads. I also use it for the drum looper and effects, as well as the percussion microphone. I use an mk3 for my Mini Sessions where I have a minimised version of my setup, but still have full control of the essentials.
Since I'll typically have both hands busy, having a way to control things on the floor is essential. I use one bank per instrument which gives me control of the looper, effects and volumes for both feed and loop. I can also control the glitch effects and even loop a glitched loop. Inception.
I started out on the guitar so I'll always see myself as a guitarist first. I've spent years finding my tone, and these pedals give me everything I need for my sound. The board itself is a powered GATOR board and I use MOGAMI patch cables throughout. I put switch toppers on every pedal and highly recommend them.
My chain starts here. As soon as I heard Maggot Brain by Funkadelic, I knew I couldn't have an electric guitar without having this on my board. The dynamic range that it opens up is crucial for me.
After listening to Jimi Hendrix Live at the Fillmore East I became obsessed with this tone. I keep the fuzz turned all the way up as I'm sure he'd want. I've modded mine to run on DC power instead of 9v.
All my favourite guitarists seem to use variations of this pedal, from David Gilmour to Jack White. The energy it brings to my tone is perfect and has enough EQ control to always cut through the mix.
Being a Hendrix fan, a vibe pedal is an inevitable step on the path to honing in on the perfect tone. This one has the sound I was looking for and adds the subtle colour and energy I needed.
This pedal can do far more than what I use it for, but I'll dive into the delays further in time. For now I use it for the shimmer delay effect; whenever a lead part just needs a bit of sparkle it's absolutely ideal.
I couldn't be obsessed with Pink Floyd and Gilmour's tone without getting an analog tape delay. It can be subtle enough that I always leave it on, but can be cranked up to complete mayhem in no time.
I rely on this reverb pedal so much that I think something's wrong with my guitar if it's off. It's always on, even if subtly, because the warmth it adds to my tone is that noticeable.
Having a second switch which can either be stop, half speed or reverse should be standard on all loopers. In my full performances I use Ableton's loopers, but use this when I'm just being a guitarist.
Yes, else I wouldn't've made this section.
I am very conscious of becoming too robotic sounding, so in addition to never using quantisation, I like to use real percussion instruments where they fit. I have a varying collection; from MEINL shakers and SABIAN finger cymbals to handmade ones using bottle caps and chestnuts.
I have a light activated theremin which constantly sustains a tone depending on how much light the sensor receives. I use a keychain torch as my light source, and by running it through a series of delays in Ableton can get some crazy sounds that can work in place of melodic solos.
I run all of this through a FOCUSRITE Scarlett 6i6 along with a SHURE SM57 percussion microphone. I use a MACKIE HM-4 headphone amplifier with BEYERDYNAMIC DT770 Pro headphones. For my Mini Sessions, I use a FOCUSRITE Scarlett Solo and a KORG Monotron Delay in place of the theremin.
I guess I can share all the files I use in my sound bank, too: