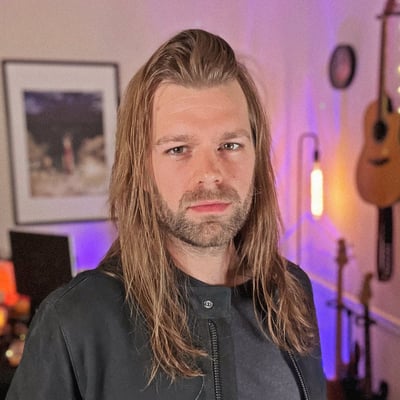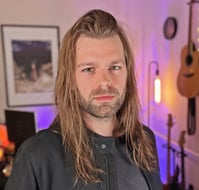 From his earliest memories, Oliver felt a calling towards music. Growing up in a household that loved listening to it loudly and air-jamming with his dad and brother made the switch to real instruments feel completely natural. After a year of asking, he was finally gifted a guitar when he was 10.
What followed was a decade of chasing the rockstar dream. Playing downtown in bars years before he was actually allowed in, missing school dances for gigs, recording in prestigious recording studios and being played on the radio while in class. Throughout the years of developing as a musician, Oliver also maintained a keen interest in art and design; he was the sole visual creative force behind his bands as well as many others.
Once the last band ultimately ended, the need for creative expression burned evermore. What resulted is Stereo Reverie.
After seeing what could be done with production software by his friends and being inspired by such looping artists as FKJ and Marc Rebillet, Oliver began building a setup that would allow him to live loop a variety of instruments at once. His music moves from moments influenced by Led Zeppelin and Pink Floyd to those of Sigur Rós, Radiohead and Pretty Lights, evolving through elements of rock and jazz to hip hop and EDM with a distinct feeling as much as a sound.
Learn more about Stereo Reverie's looping setup here.
Learn more about Oliver's design work here.








On 11.11.22, Stereo Reverie released his first solo EP, 'Memento Mori'. The EP is a collection of 3 long-form live looping performances which were filmed and uploaded to YouTube, with the audio distributed to streaming services. Learn more about 'Memento Mori' here.
In February 2023, his first single 'The Other Side' was released with a subsequent video documenting the making of the cover art design. This song started as a live loop and then had layers added retrospectively, a switch from performance focus. Learn more about 'The Other Side' here.
10 Minutes to Make a Loop
Oliver was then in pursuit of a way to be more open about himself, his music and how the creative process unfolds for him in general. He wanted to have a platform to get back the feeling of just hanging out and having fun making music, while also showcasing the vast range that his influences have resulted in.
As an avid podcast fan, he was himself in search of a series that he has been led to ultimately create; '10 Minutes to Make a Loop'.
In this ongoing series, Stereo Reverie relies on intuition and the indescribable magic that the universe flows through us to create a completely original, improvised loop jam each week from a random key and tempo without any samples or prerecorded material. Find out more about '10 Minutes to Make a Loop' here.